The New Landscape of Work
Living Office
The New Landscape of Work
A global study confirms that progressive organizations and their design partners are planning space to a new, wildly different set of benchmarks.
With all the changes to how, where, and why we work today, is it any wonder that organizations are exploring a variety of new design solutions to address the shifts?
To ascertain the substance and scale of these changes, Herman Miller studied 120 progressive work environments from a variety of industries throughout the world. Although each of these offices was unique, they all shared traits that signaled significant movement in the way organizations and their design partners were planning space. In the course of our study, Herman Miller found that the benchmarks that were once used to help guide workplace design have been turned on their heads.
At a macro level, these emerging trends point to a growing demand for more workplaces that offer greater variety. Living Office offers a holistic placemaking framework and product portfolio that make this variety purposeful.
From Oversized Conference Rooms to Precision-Fit Meeting Spaces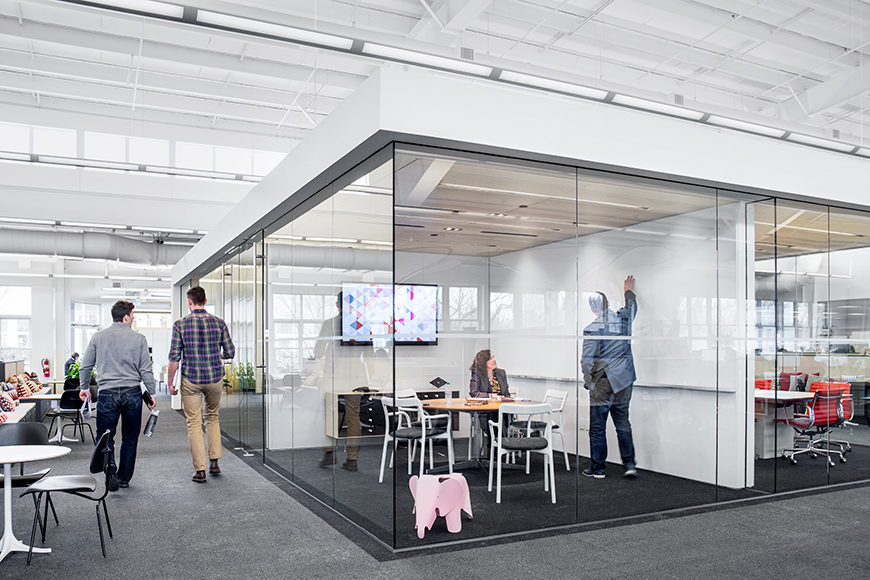 Large, traditional conference rooms (think long rectangular tables with seats lining the sides) are still prevalent in many offices today, but research shows that most are underutilized: people only use two-to-four seats in spaces designed to accommodate six-to-twelve. This means that the valuable real estate these large rooms occupy is not being put to good use.

From Distant Breakroom to Central Plaza
For decades, the breakroom has been a physical manifestation of group culture. As the nature of work shifts to accommodate a broader range of activities that may be considered social, companies are beginning to understand the value of bringing more people together in these kinds of settings.
Herman Miller's research indicates that leading organizations are creating cultural hubs, or large, centrally located Plaza Settings. These vibrant communal spaces provide plenty of comfortable seating, enticing amenities, and inspiring artifacts that help people feel more engaged, connected with coworkers, and in touch with the broader purpose of the organization.
From Privacy-as-a-Luxury to Privacy-on-Demand
As work activities have become more interactive and communal, the need for privacy hasn't gone away. The best ideas happen when groups can function like accordions: individuals pulling apart to work solo on tasks and coming back together to share progress or develop concepts. This means that everyone needs access to a variety of supportive settings, especially ones where individuals can think, sketch, write, or relax independently. Private workstations or offices are no longer the way to provide this privacy. In fact, research shows that private offices are unoccupied 77 percent of the time.
In Herman Miller's study, they noted that many organizations are taking their exclusive-yet vacant private offices and transforming them into smaller, better-equipped Haven Settings, where anyone can work. These organizations are making more efficient use of their space while signaling to employees that their contributions are valued.
To learn more about switching to a Living Office,contactour team today.